Standard hose reels for simplex, duplex and triplex hydraulic hose.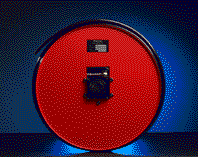 Applications
FORK LIFT TRUCKS
MOBILE CRANES
SPECIAL PURPOSE MACHINES
Background Information
Our designs draw on over 20 years of experience in the manufacture and distribution of hose reel equipment, with improvements driven by an awareness of customers' general requirements and specific demands.
The result of this process is:
The Kompact series of hose reels are suitable for fitting to all makes and models of fork lift trucks, (including side-loaders), mobile cranes, tower cranes and special vehicles as well as in many applications in specialist machinery manufacture. Our reels are of modular design, and all sizes of reel are tested to 400bar working pressure for continuous use. The reels are designed for use with 5 / 16 ", 3 / 8 " and ½" simplex and duplex hose, and we can accommodate up to 35m of hose. Due to the design of our reel hub and plate, our reels can hold more hose size-for-size than any other high-quality hydraulic hose reel known to us.
Our smallest reel, for example, with a 250mm reel diameter, holds 3m of 3 / 8 " hose.
Further features of our reels include: a very low maintenance design concept, high rigidity, universal mounting options and a long working life. Changeover from left- to right-handed reels is quickly and easily accomplished without special tools.
To complete the product range, we offer a swivel joint and a cost effective alternative for hose bending protection in the form of a crocodile fitting.
Specific Features:
The Kompact series of simplex to triplex hydraulic hose reels is designed to supply moving machine elements with high-pressure hydraulic oil. The third line of the triplex unit can be used either for return or leakage oil, or for electrical supply.
The Kompact range has the largest known capacity for standard 5 / 16 ", 3 / 8 " and ½" simplex duplex and triplex hose for a given drum diameter.
Minimum unit height (width)
Universal fitting options (flange and angle bracket), which ensures that our Kompact unit can replace all common competitors' units with the minimum of fitting.
The Kompact reels are guaranteed to work up to 400bar working pressure.
Right and left handed options available
Changing reel handing is a simple process (not available for the 4 & 5-port reels)
Automatic recoil using our long-life, safety return spring, which is contained in its own cassette unit.
For manually operated reels, we can also supply a hose lock-off mechanism (ratchet) on request.
Assembly
Using the various mounting options, Kompact reels can be used to replace a wide range of competitors' reels, and the reels can be fitted in almost any mounting position.
The reels require no special fitting.
The reels are supplied without pretension. Pretensioning is to be carried out on site in accordance with the standard fitting instructions.
Return Spring
The return spring is built into the reel. In the event of a spring failure, the spring must not be removed from its cassette. Further technical details, such as directional changes etc. are to be found in the Installation and Maintenance Instructions, available on request.
Hydraulic Hoses
Kompact reels can be supplied with or without hydraulic hose. Please confirm where required, the length, size and working pressure required, as well as the hose-end fittings.
Using these data, we can supply the complete reel with hose in the shortest possible time frame.
Technical data Twin hydraulic hose reels
Capacity of Kompact simplex, duplex and triplex Hose reels
| | | | | | | | |
| --- | --- | --- | --- | --- | --- | --- | --- |
| Model | Size A | | | | | | |
| Kompact size 250 | 250 mm | 5 / 16 " |   2.5m | 3 / 8 " |   2.5m | ½" | N/A |
| Kompact size 300 | 300 mm | 5 / 16 " |   4.0m | 3 / 8 " |   4.0m | ½" |   2.4m |
| Kompact size 350 | 350 mm | 5 / 16 " |   6.0m | 3 / 8 " |   6.0m | ½" |   3.6m |
| Kompact size 400 | 400 mm | 5 / 16 " |   8.0m | 3 / 8 " |   8.0m | ½" |   5.5m |
| Kompact size 470 | 470 mm | 5 / 16 " | 10.0m | 3 / 8 " | 10.0m | ½" |   7.5m |
| Kompact size 500 | 500 mm | 5 / 16 " | 12.5m | 3 / 8 " | 12.5m | ½" |   9.0m |
| Kompact size 550 | 550 mm | 5 / 16 " | 14.5m | 3 / 8 " | 14.5m | ½" | 11.0m |
| Kompact size 600 | 600 mm | 5 / 16 " | 18.0m | 3 / 8 " | 18.0m | ½" | 13.0m |
| Kompact size 650 | 650 mm | 5 / 16 " | 20.5m | 3 / 8 " | 20.5m | | |
| Kompact size 700 | 700 mm | 5 / 16 " | N/A | 3 / 8 " | 23.5m | | |
Other sizes on request
Hose End Fittings
M 16 x 1,5 mm, M 18 x 1,5 mm, M 20 x 1,5 mm, M 22 x 1,5 mm, M 24 x 1,5 mm and BSP fittings on request
Inlet Adapters
10 L, 12 L, 15 L, 12 S, 16 S and BSP fittings on request
---
ACCESSORIES
Swivel Joint
---
Applications
FORK LIFT TRUCKS
MOBILE CRANES
SPECIAL PURPOSE MACHINES
Accessoires
Alternative mounting arrangements
Right angle mounting flange for drums up to
Ø 400 mm
Right angle mounting flange for drums up to Ø 450 mm
Standard mounting flange

Tube-Stopper
Articulated joint