Four-Port Hydraulic Hose Reels
Applications
FORK LIFT TRUCKS
MOBILE CRANES
SPECIAL PURPOSE MACHINES
Special features
The Kompact series 4-port hydraulic hose reels have the same modular construction as the standard reels. This means that they offer identical reel capacity for the standard hose sizes ( 5 / 16 , 3 / 8 " and ½") and are thus assembled to order from stock components.
Since quadruplex hose is extremely stiff, it is difficult to roll onto a reel. Furthermore, it is virtually impossible to obtain ex-stock. We have therefore chosen to use two twin hoses separated by a reel plate to improve guidance
These reels are also available with an additional hose line (i.e. five-port), using a twin and a triplex hose line in combination. This allows either a leakage oil return or an electrical connection, without radically increasing the reel width. The electrical connection and associated slip-ring are set up for up to 5 functions with up to 16A resistive load.
Te four-port option is certainly more cost-effective than two twin reels, both in unit price and n fitting costs.
Due to our use of a modular construction, we are generally able to despatch reels with up to 20m capacity on the day of ordering, to ship directly to the customer, saving the need for stockholding at the distributors.
Please NoteIt is not possible to change the direction of rotation on four-port hose reels. There is also only one mounting flange option.
Fitting
The reels may be mounted in any position. The reels require no special fitting. The reels are supplied without pre-tension. Pre-tensioning is to be carried out on site in accordance with the standard fitting instructions.
Return Spring
The return spring is built into the reel. In the event of a spring failure, the spring must not be removed from its cassette. Further technical details, such as directional changes, seal replacements etc. are to be found in the Installation and Maintenance Instructions, available on request.
Hydraulic Hoses
Kompact reels can be supplied with or without hydraulic hose. Please confirm where required, the length, size and working pressure required, as well as the hose-end fittings.
Using these data, we can supply the complete reel with hose in the shortest possible time frame.
Plaese Note:
Please note that hydraulic hoses can stretch and/or shrink when first used. International standards permit length changes up to 3%. This means that unpressurised hoses can be seen to droop, which can potentially pose problems on longer hoses.
Technical Data Four-way hydraulic hose reels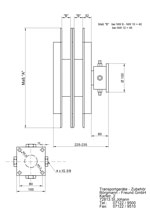 Capacity of Kompact Hose Reels
| | | | | | | | |
| --- | --- | --- | --- | --- | --- | --- | --- |
| Model | Size A | | | | | | |
| Kompact size 300 | 300 mm | 5 / 16 " |   4.0m | 3 / 8 " |   4.0m | ½" |   2.4m |
| Kompact size 350 | 350 mm | 5 / 16 " |   6.0m | 3 / 8 " |   6.0m | ½" |   3.6m |
| Kompact size 400 | 400 mm | 5 / 16 " |   8.0m | 3 / 8 " |   8.0m | ½" |   5.5m |
| Kompact size 470 | 450 mm | 5 / 16 " | 10.0m | 3 / 8 " | 10.0m | ½" |   7.5m |
| Kompact size 500 | 500 mm | 5 / 16 " | 13.0m | 3 / 8 " | 12.5m | ½" |   9.0m |
| Kompact size 550 | 550 mm | 5 / 16 " | 15.6m | 3 / 8 " | 14.5m | ½" | 11.0m |
| Kompact size 600 | 600 mm | 5 / 16 " | 18.6m | 3 / 8 " | 18.0m | ½" | 13.0m |
Other sizes on request
Hose End Fittings
M 16 x 1,5 mm, M 18 x 1,5 mm, M 20 x 1,5 mm and BSP fittings on request
Inlet Adapters
10 L, 12 L, 15 L, 12 S and BSP fittings on request
---
ACCESSORIES
Swivel Joint
---
Applications
FORK LIFT TRUCKS
MOBILE CRANES
SPECIAL PURPOSE MACHINES
Accessoires
Alternative mounting arrangements
| | | |
| --- | --- | --- |
| | | |
| Installation-Angle | Articulated joint | Tube-Stopper |