Three Port Hydraulic Hose Reels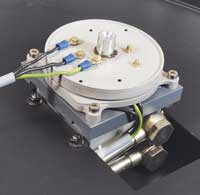 Applications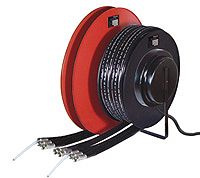 FORK LIFT TRUCKS
MOBILE CRANES
SPECIAL PURPOSE MACHINES
Special Features
The combined electrical-hydraulic hose reels offer an ideal solution for attachment applications where both high-pressure hydraulic oil and electrical power are required, e.g. for solenoid valves, end switches, lights etc.
They save the need for two reels.
SThey are more cost-effective than two separate reels.
The five-core electrical cable, together with our slip-ring will to take up to five circuits at 16A (resistive load).
Running the cable through the "spare" hydraulic hose line gives a much greater degree of protection than a free reeled cable.
Thus, a combine reel saves space and cost. In addition, since these reels are based on the same modular construction as the standard reels, Reels of up to 20m capacity can be assembled from stock parts and despatched on the day of ordering, directly to the customer's site. This reduces your stock requirements effectively to zero.
Changing direction on these reels is difficult, though not impossible. It is better therefore to select the correct direction at time off ordering.
Installation
The reels are supplied without pretension. Pretensioning is to be carried out on site in accordance with the standard fitting instructions.
Please Note
When fitting the hose reel, please ensure that the slip-ring cover with its restraining arm and input/output wires are not incorrectly positioned. It is best to position and fit the cover last, after fitting the reel, and to ensure that the restraint is properly screwed onto the mast or crane arm.
Return Spring
The return spring is built into the reel. In the event of a spring failure, the spring must not be removed from its cassette. Further technical details, such as directional changes etc. are to be found in the Installation and Maintenance Instructions, available on request.
Hydraulic hoses
Kompact reels can be supplied with or without hydraulic hose. Please confirm where required, the length, size and working pressure required, as well as the hose-end fittings.
Using these data, we can supply the complete reel with hose in the shortest possible time frame.
Technical Data Three-way hydraulic hose reels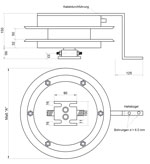 + Detail
| | | | |
| --- | --- | --- | --- |
| Model | Size A | | |
| Kompact size 300 | 300 mm | 3 / 8 " |   4.0m |
| Kompact size 350 | 350 mm | 3 / 8 " |   6.0m |
| Kompact size 400 | 400 mm | 3 / 8 " |   8.0m |
| Kompact size 450 | 470 mm | 3 / 8 " | 10.0m |
| Kompact size 500 | 500 mm | 3 / 8 " | 12.5m |
| Kompact size 550 | 550 mm | 3 / 8 " | 14.5m |
| Kompact size 600 | 600 mm | 3 / 8 " | 18.0m |
Other sizes on request
Hose End Fittings
M 16 x 1,5 mm, M 18 x 1,5 mm, M 20 x 1,5 mm, M 22 x 1,5, M 24 x 1,5 and BSP fittings on request
Inlet Adapters
10 L, 12 L, 15 L, 12 S, 16 S and BSP fittings on request
---
ACCESSORIES
Swivel Joint
---
Applications
FORK LIFT TRUCKS
MOBILE CRANES
SPECIAL PURPOSE MACHINES
Accessoires
Alternative mounting arrangements
Right angle mounting flange for drums up to
Ø 400 mm
Right angle mounting flange for drums up to Ø 450 mm
Standard mounting flange

Tube-Stopper
Articulated joint